'Tis the season for family traditions. Whether your family enjoys baking together, decorating the house and Christmas tree, or just snuggling in with a few favourite seasonal movies – the time to do it is coming up. We're very fortunate in British Columbia to have so many options to help us enjoy the season. You can get up the mountains if you want to play in the snow – Cyprus Mountain is now open. Or you can attend one of the City's magical events. Here are 4 of our favourites family traditions.
Holiday Events to add to your family traditions
Heritage Christmas presented by Concord Pacific
November 26, 2021-January 2, 2022
Enjoy the special atmosphere of festive lights and the traditional decorations. Wander the museum's 10 acre venue and take in all the seasonal entertainment, demonstrations and activities. Take part in the bird-themed scavenger hunt including a menagerie of adorned larger-than life Eco-sculptures. Enjoy a meal or a treat at the Ice Cream Parlour or other offerings from Cravings Kettle Corn.
Hours and info at BurnabyVillageMuseum.ca
Admission is free but please plan your visit in advance as entry may be limited based on site capacity. Parking may be sparse, so please consider alternate means of transport to the museum.
Please note: The Carousel will be closed during Heritage Christmas due to maintenance.
http://kidsmarket.caExplore the MAGIC of Christmas at Kids Market
Visit with Santa for story time and a sign-along
December 3rd to 24th
Monday to Thursday 11 am to 3 pm
Friday to Sunday 11 am to 330 pm
Check our website for more information – kidsmarket.ca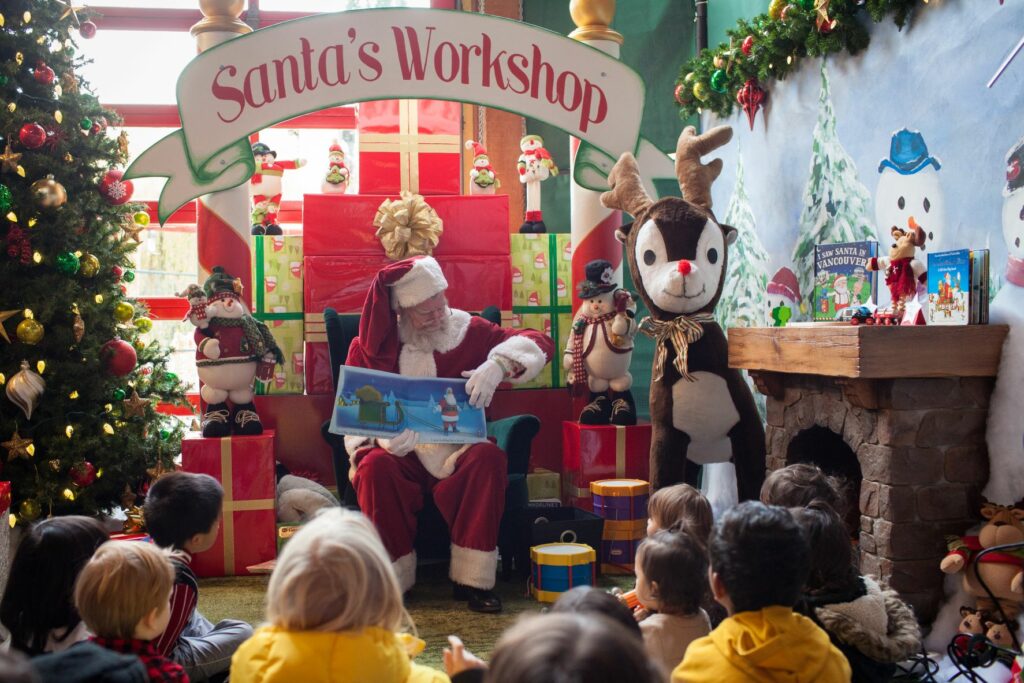 PNE Winter Fair
An immersive magical holiday experience for the entire family!
December 14 – 23, 2022
Concerts, Skating and Food Delights combined with Shopping and WinterLights
The PNE is bringing Vancouver a unique Winter Fair this holiday season! The event runs for ten magical nights and will feature a nightly Christmas-themed concert series, a large indoor skating rink, family-friendly holiday theatre shows that will be a favourite for the little ones, a winter market, tasty food and beverages, and a walk-thru WinterLights display!All entertainment elements at PNE Winter Fair are free with admission (except for the Holiday Night Concerts in the Pacific Coliseum).
Book your tickets here!
Anne of Green Gables – The Musical TM
December 15-31, 2022
Fall in love with Anne Shirley in this musical adaptation of L.M. Montgomery's timeless classic. With her fierce personality and remarkable imagination, you won't want to miss this inspiring, humorous, and touching musical live on stage this holiday season.
Tickets here from $35!
The holiday season is a magical time of year that can get a little stressful. Just remember the most important part is to spend quality time with your loved ones and enjoy this beautiful Province we are lucky to live in!
Happy Holidays!!!!