Here we are again, planning another 8 weeks of Summer vacation! Fortunately, even with COVID-19 persisting, we have Summer Camp options. Summer Day Camps and extracurricular activities are great opportunities for your children to take part in something outside of their usual routine. Summer Camps help children to foster an open mind, build new relationships, strengthen interpersonal and work skills outside of their familiar zones, and learn or refine a skill. Whether your child is interested in sports, music, or technology, we have our annual Summer Camp round-up to help you find that fantastic camp that will excite and entertain your children.
Arts Umbrella
Vancouver, Surrey
artsumbrella.com
Arts Umbrella Summer Camps offer fun, energetic workshops in Art, Design, Dance, Theatre, Music & Film for young people ages 3-19! Inspiring artist-instructors lead activities on Granville Island (July 5 – 30) and in Surrey (July 5 – August 20). Registration opens May 7th – details here.
Boogaloo Academy
Vancouver, In-studio and Online
604/805-0558
boogalooacademy.com
Ages 1.5–Adult
Register now for exciting and fun summer dance camps and M/T/W classes. Enjoy hip hop, breakin', popping, jazz, ballet, lyrical, contemporary, musical theatre, and more. Recreational to competitive levels – for early childhood to adults. Your health and safety is our top priority. Please visit our website to view our Covid-19 safety protocols.
Colourstrings Conservatory of Music
Vancouver
colourstrings.ca
Summer Camps & Music & Movement classes. Progressive, fun & interactive classes grouped by age, with music, instruments, songs & play. Baby to 6yrs. Available in a Hybrid, in-house & online formats. Instrumental & Choir lessons. Start your musical journey today at colourstrings.ca
Digital Media Academy
UBC Vancouver
1-866/983-4949, 604/969-3599
vancouver@digitalmediaacademy.org
techcamps.digitalmediaacademy.org/vancouver/
Digital Media Academy (DMA) offers North America's best STEAM camps. Its well-known camps are held at world prestigious university campuses. The summer camps at UBC are offered in-person for ages 9-18. Students will be immersed in cutting-edge courses in AI, Robotics, Coding, Animation, Game, APP development, Music & Film Production, Social Media, and etc. These camp courses are professionally designed with a focus on project-based learning.
Camp safety protocols are implemented both by the NEST, UBC, and DMA Vancouver team and meet or exceed provincial Public Health and Ministry of Education guidelines as identified in its Guidelines and safety plan here.
Lights Up Musical Theatre Schools
Vancouver, Burnaby, North Shore, Richmond, Surrey.
1-888-502-5253
info@lightsuptheatre.ca
lightsuptheatre.ca
The show MUST go ON! Safe and responsible Musical Theatre for 3-18yr olds. Weekend classes, Spring and Summer Camps, After School programs, In person and online options.At Lights Up we teach the musical theatre fundamentals to help students shine on the stage and in all aspects of their lives. NO previous experience necessary!
Place Des Arts
Coquitlam
604/664-1636
placedesarts.ca
Place des Arts visual and performing arts camps give you flexibility and choice. They have in-person day camps and hybrid camps, where students have the option of attending in-person or online via Zoom. Register online, in-person or by phone: 604/664-1636.
Summer Day Camps At Camp Qwanoes!
Tsawwassen
qwanoes.ca
Yes – summer CAN still happen! Why stay home when there's a world of adventure just around the corner? With the Camp Qwanoes "MAINLAND EXPRESS" option they've made a way for children and youth from the mainland to come to camp! Watch the 2021 video here.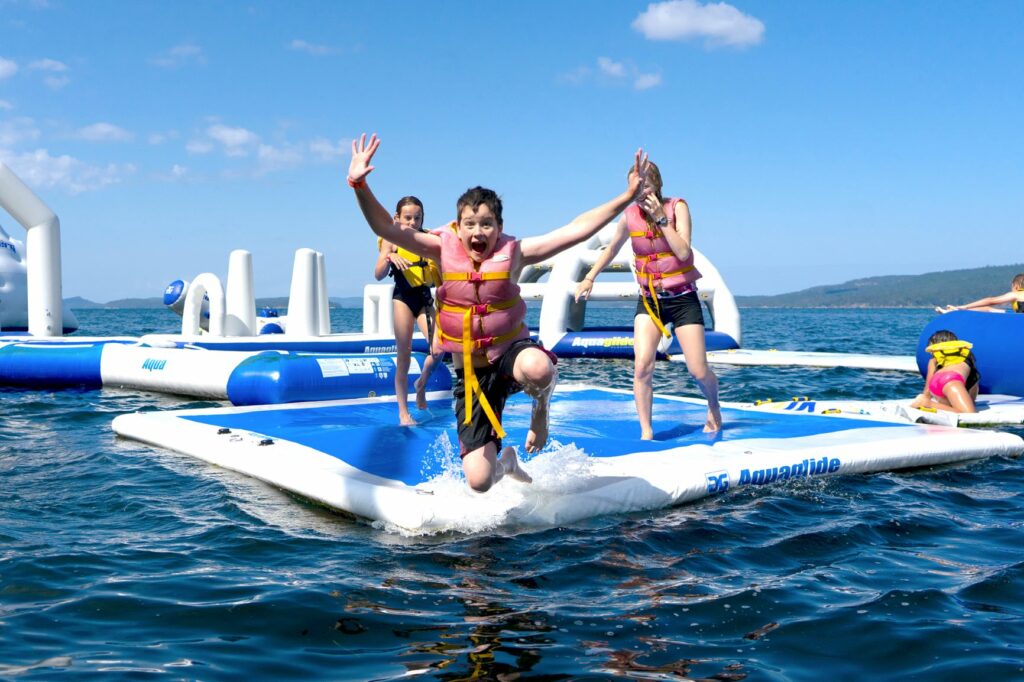 Royal City Soccer Club
Abbotsford, Burnaby, Chilliwack, Coquitlam, Delta, Kamloops, Kelowna, Langley, Maple Ridge, Richmond, Surrey, Vancouver, Victoria
1-800-427-0536
info@royalsoccerclub.com
royalsoccerclub.com
Royal City is the #1 grassroots summer soccer day camp in BC. Host to children aged 5 to 13 across 18 locations in Lower Mainland, we operate during July and August weeks. For more info call 1-800-427-0536 or visit royalsoccerclub.com. All Federal, Provincial and local Covid safety protocols will be closely followed.
Steamoji
West Vancouver
604/281-1829
westvancouver@steamoji.com
steamoji.com/camps.html
Steamoji is a maker academy for kids that trains builders, makers, inventors, and entrepreneurs. Engage your child this summer with a week-long camp of STEAM projects and activities!
Build to Solve Summer Camp / Ages 5-9
Designing for 3D Printing and Laser Cutting / Ages 10-14
Intro to Robotics Summer Camp / Ages 5-9
Physical Computing with Microcontrollers / Ages 10-14
TumbleTown
Kitsilano Vancouver, Steveston Richmond
604-357-7355
service@tumbletown.ca
tumbletown.ca
TumbleTown offers specialized movement education programs for children ages 6 months and up. Our unique and exciting curriculum keeps children moving, learning & engaged. We now have 2 locations in Vancouver (Kitsilano) and Richmond (Steveston). Our Summer camps include In-Gym & Outdoor, Half & Full day options!
8 weeks available beginning July 5 – August 27th